Welcome to Sassy's Fangirl Debuts, a feature event where I introduce you to this years and next years debut authors! Grab some popcorn and have your Goodreads page open because there are some wonderful new authors and books coming out soon!
This week of Sassy's Fangirl Debuts, we are having the wonderful Michelle Modesto, YA author of the upcoming REVENGE AND THE WILD, which releases on February of next year!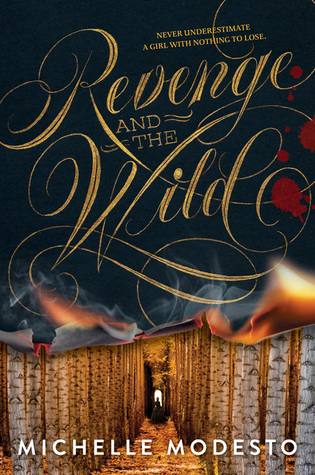 Title:
Revenge and the Wild
Author:
Michelle Modesto
Genre:
Young Adult, Western, Steampunk
Release Date:
February 2nd, 2016
Publisher:
Balzer + Bray
The two-bit town of Rogue City is a lawless place, full of dark magic and saloon brawls, monsters and six-shooters. But it's perfect for seventeen-year-old Westie, the notorious adopted daughter of local inventor Nigel Butler. Westie was only a child when she lost her arm and her family to cannibals on the wagon trail. Nine years later, Westie may seem fearsome with her foul-mouthed tough exterior and the powerful mechanical arm built for her by Nigel, but the memory of her past still haunts her. She's determined to make the killers pay for their crimes—and there's nothing to stop her except her own reckless ways. But Westie's search ceases when a wealthy family comes to town looking to invest in Nigel's latest invention, a machine that can harvest magic from gold—which Rogue City desperately needs as the magic wards that surround the city start to fail. There's only one problem: the investors look exactly like the family who murdered Westie's kin. With the help of Nigel's handsome but scarred young assistant, Alistair, Westie sets out to prove their guilt. But if she's not careful, her desire for revenge could cost her the family she has now.


Today Michelle is stopping by with a ten random facts guest post! Below you'll get to read five random facts about her forthcoming debut novel Revenge and the Wild and you'll also get to read five random facts about the lovely Michelle herself!
Ten Random Facts About Revenge and the Wild:
1.) The first version of R&TW was far more morbid than the printed version.
2.) I had three different ideas for stories (a western, a steampunk, and a paranormal) and wasn't all that excited about any of them, so I mashed all of them together to create Revenge and the Wild.
3.) Originally, there were no cannibals in the book. It wasn't until a friend and I drove through Truckee—where the Donner Party was stranded—that I added them. The story completely changed after that.
4.) I wrote half the book in one weekend, afraid if I didn't get it down I would lose the voice.
5.) I'd never been in critique groups or had beta readers, so the editing process was scary and challenging. The stress of it gave me a headache that lasted three months straight. It got so bad that I went to the hospital to make sure it wasn't something worse. Luckily it wasn't!
Ten Random Facts About Michelle:
6.) I once wrote and directed a terrible, campy zombie film called Revenge of the Re-Animated Dead: Zombies O'grotten. It was so much fun. Unfortunately, it was never completed.
7.) Fingernail polish is my weakness. I can't go to the store without buying a new color.
8.) All of my novels are written by hand before they ever see a computer. I have calloused fingers because of it and hundreds of composition books full of scribble.
9.) My favorite dog breed is a bull mastiff. They are most gentle, loyal, loving dogs I've ever come across.
10.) Instead of Miracle on 34th Street, or A Christmas Carol, my kids and I have made it a tradition to watch Christmas horror films every year. I'm really looking forward to Krampus this year!
Michelle Modesto is an associate editor at Gold Man Review, a west coast literary journal. She is also a former tattoo artist and works as a dog groomer and rescuer. She loves hockey, mudding and redneck things. She lives in Northern California with her two kids and a couple of bed-hogging bull mastiffs
CONNECT WITH MICHELLE MODESTO!
Happy reading!