Welcome to Sassy's Fangirl Debuts, a feature event where I introduce you to this years and next years debut authors! Grab some popcorn and have your Goodreads page open because there are some wonderful new authors and books coming out soon!
This week of Sassy's Fangirl Debuts, we are having the wonderful Laurie Elizabeth Flynn, YA author of FIRSTS, which releases on January 5th of next year!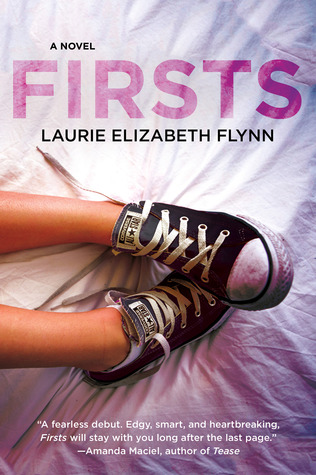 Title:
Firsts
Author:
Laurie Elizabeth Flynn
Genre:
Young Adult, Contemporary, Romance
Release Date:
January 5th, 2016
Publisher:
St. Martin's Griffin
Seventeen-year-old Mercedes Ayres has an open-door policy when it comes to her bedroom, but only if the guy fulfills a specific criteria: he has to be a virgin. Mercedes lets the boys get their awkward, fumbling first times over with, and all she asks in return is that they give their girlfriends the perfect first time- the kind Mercedes never had herself. Keeping what goes on in her bedroom a secret has been easy- so far. Her absentee mother isn't home nearly enough to know about Mercedes' extracurricular activities, and her uber-religious best friend, Angela, won't even say the word "sex" until she gets married. But Mercedes doesn't bank on Angela's boyfriend finding out about her services and wanting a turn- or on Zach, who likes her for who she is instead of what she can do in bed. When Mercedes' perfect system falls apart, she has to find a way to salvage her reputation and figure out where her heart really belongs in the process. Funny, smart, and true-to-life, FIRSTS is a one-of-a-kind young adult novel about growing up.


Hi Laurie! Thank you so much for stopping by the blog today! Before we get started on the interview, would you care to tell us a little bit about yourself?
Hi Talina! First of all, thanks so much for having me. I'm honored to be part of Sassy's Fangirl Debuts! A little bit about me… I'm a former model turned young adult author. I went to school for journalism, but that just made me realize how much better suited I am to making up my own stories. I'm married to the most wonderful husband in the world (but I may be just a bit biased)! I'm a proud Canadian, a wine lover, coffee addict, and a dog mom to my very spoiled senior Chihuahua, Abby.
1. FIRSTS is described as an honest, refreshing, YA novel about sex, love and high school. I'm curious to know, are you nervous that people will deem this "too" racy for the YA genre?
That's a great question. It wasn't something I gave much thought to while I was writing the book, because I didn't want to let self-doubt creep in and stall my momentum. But when it came time to query the book, the nerves started to take over. I was worried agents would balk at the subject matter and not want to take a chance on the book. Luckily, my agent, editor, and whole publication team are completely fearless and believe in FIRSTS so strongly that any residual nerves I had totally went away. While FIRSTS likely won't be a book for everyone, the positive reaction and level of support from the YA community has been incredible.
I'm going to be honest with you, at first I was a bit surprised while reading the synopsis, but I was also very intrigued to see how the story would play out. I've never seen a story like yours and I'm super excited to pick up my ARC to see how it turns out! I also know once FIRSTS is out in the world, others will be waiting in line to pick up their copies too!
2. How many years have you been writing that lead up to your forthcoming release?
I started writing with the intention of being published about three and a half years ago. Actually, I sent my first query—for an NA contemporary—almost exactly three years ago, in December 2012. My dream of being a published author definitely didn't happen overnight! So if you're a writer getting frustrated that it won't happen—keep writing. The words are the only part you can control, so focus on them.
A NA contemporary? I'm already excited about FIRSTS, but now you've got me intrigued for this other novel! ;) That is definitely some great writing advice though! Becoming a published author won't happen overnight, but if you keep at it and you believe in yourself, you'll get there!
3. What inspired you to write FIRSTS? Was this an idea that randomly popped in your head one day or has this story been with you for awhile?
The hook and the name "Mercedes" popped into my head seemingly out of nowhere. I remember randomly thinking one day, "What if there was a book about a girl who wanted to give guys the perfect first time—except the guys all have girlfriends?" I was in the midst of writing a NA contemporary, but the idea for FIRSTS nagged at me until I sat down to write it. Once I did, the words poured out, and three weeks later I had a first draft. While the initial inspiration came out of the blue, the more I wrote, the more I knew exactly why I was writing the book—for teen girls, for all the girls who have been shamed or bullied or judged for having sex. They deserve better, and through Mercedes, I wanted to create a character who makes decisions and makes mistakes but doesn't slut-shame herself.
Like I said above, I don't think I've ever seen a book like FIRSTS, and that's what intrigued me so much, especially since it's categorized in the YA genre. I think the reason why you wrote this novel is truly an inspiration not just to me, but also for a lot of other girls out there.
4. What do you want readers to take from, after reading Mercedes story?
Mercedes is someone who has a lot going on under the surface that she doesn't trust anyone to know about. Her faith in people has been rattled, and she thinks keeping her own secrets is the only way to protect herself. If readers take one thing away from FIRSTS, I hope it's the knowledge that people can be completely different on the inside than the face they're showing the world. Before you judge or jump to believe a rumor that's circulating, remember that you don't know what someone has been through or is going through.
What I love most about characters is how the author portrays them to be realistic and flawed and not always "perfect" in a way. I think that's what I'm going to see from Mercedes and I admire that and I admire you for writing such a character. I am definitely excited to meet her and to be swept away into her story!
5. Now that your debut is almost out into the world (super exciting!), are you working on anything new at the moment? If so, can you give us a hint as to what it is?
I'd love to! I recently finished another YA contemporary about a girl whose best friend disappears after an end-of-summer blowout party — a party at which she did something that will have deeper consequences than she ever imagined. It's all about the weight of a secret, and the realization that secrets are the most valuable form of currency.
I'm also working on two new YA contemporary projects at the moment, both of which I'm excited about for different reasons. One is from a boy's POV and has been a lot of fun, and the other… well, the other one is trouble, which usually means it's worth it!
I need these contemporary novels ASAP! Totally adding these to my TBR soon! ;)
Thank you so much for stopping by the blog today, Laurie! It was so lovely having you! If you guys haven't added this debut novel to your TBR, I highly suggest you do because this one seems like it will hit the best seller in no time!
Thanks again for having me, Talina—and thanks for your wonderful support! I think 2016 is going to be a truly amazing year, and I'm thrilled to be debuting with so many talented authors!
Laurie went to school for Journalism, where the most important thing she learned was that she would rather write made-up stories than report the news. She also worked as a model, a job that took her overseas to Tokyo, Athens, and Paris. Laurie now lives in London, Ontario with her husband Steve, who is very understanding when she would rather spend time with the people in her head. Laurie can mostly be found writing happily at her desk, with the world's most spoiled Chihuahua on her lap. Laurie drinks way too much coffee, snorts when she laughs, and times herself when she does crossword puzzles.
CONNECT WITH LAURIE ELIZABETH FLYNN!
Happy reading!